Texas Medical Center Spine Fellowship Overview
Texas Medical Center Spine Fellowship
Percent of Fellowship devoted to Operative Care: 70%
Non-Operative Care: 30%
Research/Publication Obligation: Yes
Approximate percentage of exposure to the Spine by region:
Cervical: 30%
Thoracic: 20%
Lumbar: 50%
Approximate percentage of Fellowship exposure to the Spine by diagnostic category:
Degenerative: 40%
Trauma: 15%
Deformity: 20%
Tumor: 15%
Pediatric: 10%
Characteristics: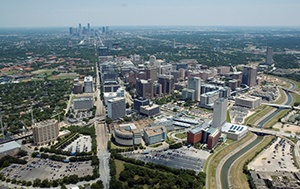 The fellowship offers excellent clinical training for neurosurgeons or orthopaedic surgeons in the evaluation and treatment of the entire spectrum of spinal disorders. Our fellowship has specific rotations that emphasize cervical and lumbar degenerative disorders, spinal column trauma, spinal column and spinal cord tumors, pain management, and adult and pediatric spinal deformity. The fellow will rotate with neurosurgical and orthopaedic spine surgeons as well as a pain management specialist at a variety of locations in Houston.
The rotations will be at Memorial Hermann Hospital emphasizing spine trauma the treatment of degenerative spinal disorders; MD Anderson Cancer Center emphasizing spinal column and spinal cord tumors; The Methodist Hospital emphasizing spinal deformities and tumors; Shriner's Hospital and Texas Children's Hospital emphasizing pediatric spinal deformity; Houston Orthopaedic and Spine Hospital emphasizing degenerative spinal disorders; and Texas Orthopaedic Hospital emphasizing degenerative spinal disorders. The Fellow will develop expertise in the following surgical procedures: microscopic discectomy, ACDF, TLIF, transthoracic and retroperitoneal corpectomy and reconstruction, occiput to pelvis spinal instrumentation, kyphoplasty, en bloc spondylectomy, transpedicular osteotomy and both hook and pedicle screw posterior spinal instrumentation for spinal deformity correction.
Our fellowship is a "fellowship without walls." The fellow trains with some of the most talented and respected surgeons in our region regardless of their institutional affiliation. Each faculty member has clinical and technical expertise in different subspecialty areas of spine surgery, which allows the fellow to gain a tremendous exposure to the various subspecialties of the spine.
The curriculum includes rotations with specific attendings, where the Fellow functions as an apprentice under the attending. The Fellow will participate in 350 to 400 cases per year.
Fellows are required to complete a neurosurgery or orthopaedic surgery residency prior to entering the Fellowship.
Purpose:
To create a positive learning environment with maximum surgical and clinical experience from occiput to sacrum; front and back; minimally and maximally invasive in every aspect of the spine
Goals and Objectives:
Broadly, our the fellowship goal is to develop a whole spine surgeon capable of recognizing and managing a broad variety of spinal conditions.
1. Develop a complete spine surgeon capable of critical thinking and recognizing and managing a broad variety of spinal conditions:
Degenerative conditions
Deformity
Tumors and infections
Trauma
Adult and pediatric conditions
Injections
2. Obtain a detailed working understanding of cervical, thoracic, and lumbar anatomy as it pertains to normal anatomy, pathology, and the surgical and non-operative treatment of spinal disorders.
3. Become familiar and comfortable with the usage of operative techniques of the spine, usage of implements and tools specific to spine surgery, and in the placement of spinal instrumentation in the spine.
4. Be exposed to and become skilled in a broad range of surgical skills to treat the spectrum of spinal pathology.
5. Learn to completely assess the patient with spinal disorders, including spine specific history taking, physical exam, evaluation of radiographic findings, and an understanding of the results of treatment and diagnostic modalities.
Methods of Evaluation:
The fellow receives a verbal evaluation at the halfway mark of each rotation and a written on at the end of each rotation.
Continuing Education:
The fellow is allowed to attend 6 to 10 national spine meetings during the year, including courses specifically designed for spine fellow education.
Weekly indications/M&M conference:
The fellow presents all pre-and post-operative cases from the previous and upcoming week in a PowerPoint presentation. All faculty members participate and critically analyze each case with attention directed toward proper indications, treatment and coding. Every implant is critically reviewed and spinal alignment and balance are critiqued.
Other Meetings:
Baylor spine fellows' conference – 1 hour per week
UT resident/fellows spine conference – 1 hour per month
Teaching:
The fellow and resident on the spine service give a monthly talk on various spinal disorders to the orthopaedic surgery residents.
Research:
The fellows are required to complete at least one publishable research project. They work with our research coordinator and individual attendings. They may participate in clinical or basic science research projects. They are encouraged to submit and present their work at national and international meetings.
Weekly Schedule:
Depending on the rotation, the fellow will typically spend 1-2 days per week in clinic and 3-4 days in surgery with allotted time for research. The fellow presents cases from the previous and upcoming week at a weekly indications conference on Wednesday evenings. The fellow presents to residents and faculty at the UT spine conference one morning each month. The fellow also attends a spine journal club at Shriners Hospital each month.
Teaching Surgeons:
Rex Marco, MD
Christoph Meyer, MD
Darrell Hanson, MD
Lawrence Rhines, MD
Justin Bird, MD
Jeffrey Kozak, MD
David Wimberley, MD